Public Art
The Tysons Art Collective is a selection of thoughtfully-curated, permanent and temporary art activations throughout the center. The Collective represents local artists and groups, student art, and international creators – and activates the shopping center common area year-round with commissioned pieces and rotating exhibits.
---
Rotating Exhibitions
Macerich has partnered with ArtsFairfax to showcase local artists, artist teams, and arts organizations of Fairfax County through temporary art installations. This partnership enables the more than 20 million yearly visitors who explore Tysons Corner Center's retail and entertainment offerings to discover the diversity, creativity, and quality of visual artists from the Fairfax region.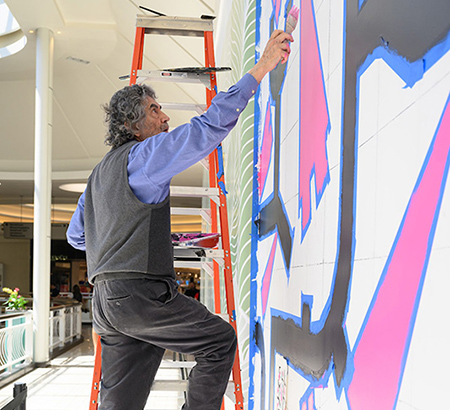 Current Exhibition
"Pathways" Mural by Fernando Osorio
Created as part of the
Workhouse Collaboration
, and located on the Upper Level of Macy's Court (next to LOFT). Fernando's educational background in art and design influences his style in modern art by capturing the "realms of spirituality." Shoppers witnessed his work created in real-time, and are now able to enjoy his completed work.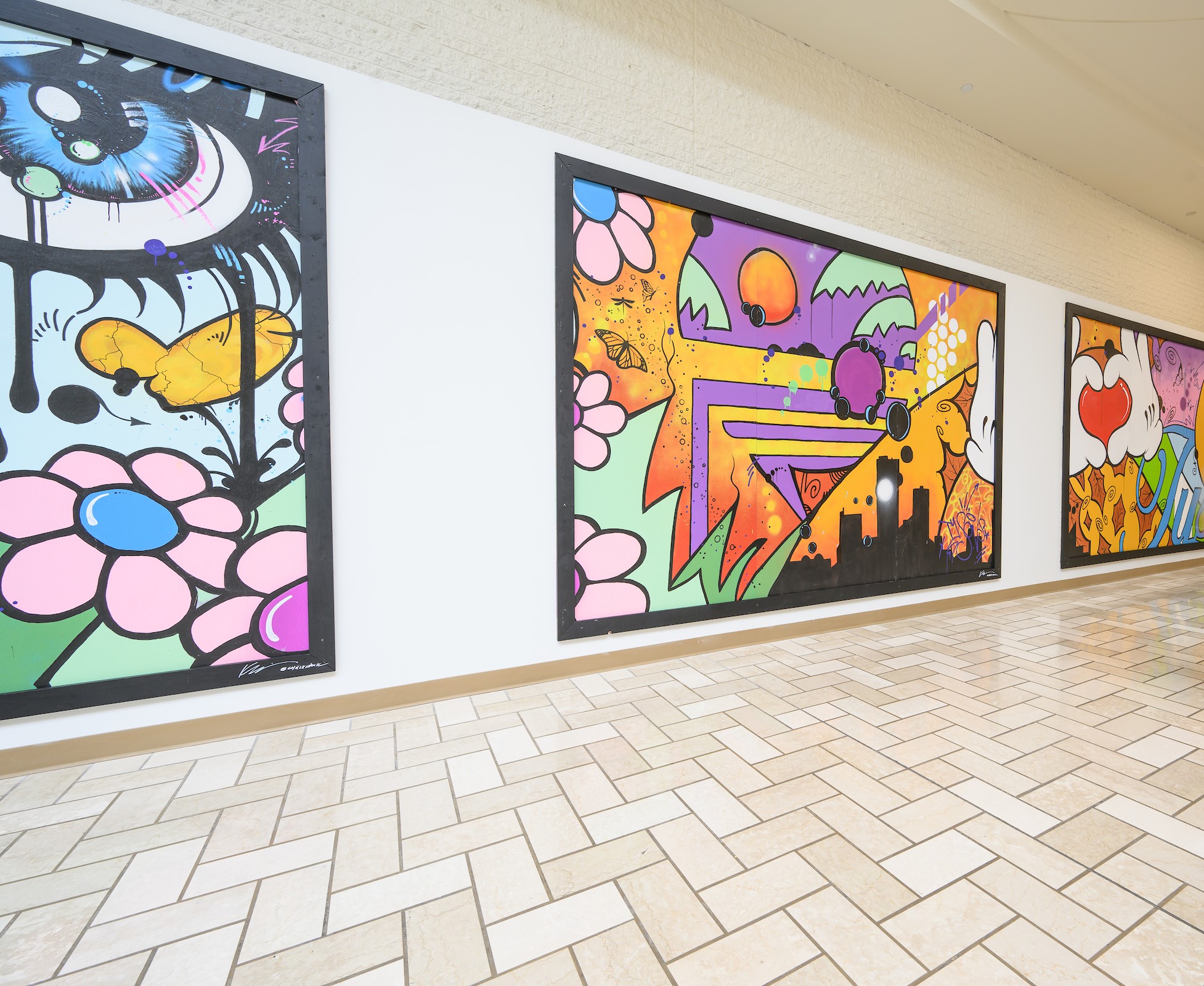 "Phases" Mural by Kevin Bednarz and Tonia Crawford
"Phases" four-panel graffiti mural by artists Kevin Bednarz and Tonia Crawford represents the vibrance, color and excitement of Tysons Corner Center throughout the seasons of the year. Each panel stands alone in composition, but they also work together creating a seamless flow and blended style from the two artists.
This installation can be found on Level 2, near Macy's.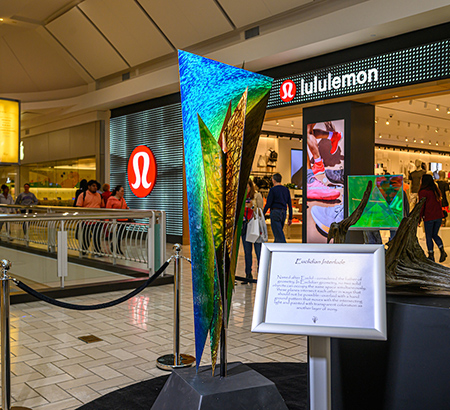 Past Exhibitions
Learn more about the exhibitions that have appeared at Tysons Corner Center.
Workhouse Collaboration
The Workhouse Arts Foundation, which operates the Workhouse Arts Center, is a nonprofit that offers engaging opportunities and inspiring experiences in visual and performing arts. Officially transitioned from the District of Columbia Prison Complex to Workhouse Arts Center in 2008, the organization now sits on 55 acres of land surrounded by rolling hills, and features 3 main gallery spaces with over 60 artist studios.
The Foundation also hosts an array of classes in areas such as arts education, exercise, and theatre, and offers special events and activities aimed at community engagement and personal enrichment. Tysons Corner Center has partnered with The Workhouse Arts Foundation to display the work of chosen resident artists within the center.
See above for the current Workhouse Collaboration works on display at Tysons Corner Center, and also view the Past Exhibitions page for information about past Workhouse Collaboration pieces that have appeared.
---
Permanent Installations
Concourse Hanging Art
A new, hanging art installation featuring vines and butterflies was put in place on the Concourse at the beginning of May. The unique installation was produced by a company called Impact Plan out of Lisbon, Portugal. Impact Plan installs creative public art throughout Europe. This beautiful installation creates visual interest by "bringing the outside in" as the Concourse is the bridge from the Plaza to the shopping center.