Tysons Corner Center Drive-In
Ongoing
|

Parking lots between Nordstrom and Bloomingdale's
---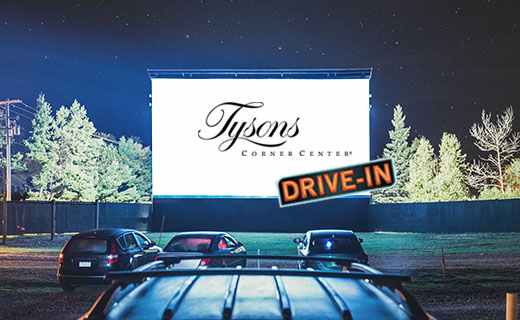 Need a reason to get out of the house? Well get ready the Tysons Corner Center Drive-In is back for its second showing of the summer! On Friday, August 14th, Tysons Corner Center is hosting its second Drive-In Movie Night of the summer. This time we'll be showing the animated version of Aladdin!
Tysons Corner Center is happy to put on this nonprofit event while raising money for a local community organization. Reserve your tickets now, with a donation of $10 or more to Second Story, a local nonprofit helping vulnerable community members! Don't wait to sign up though because space is limited!
Friday, August 14th - Aladdin (AVAILABLE NOW!)
Saturday, September 12th - Mrs. Doubtfire (Available 8/21)
Each night, the fun will kick-off at 6:00PM (movie starts at 8:30PM) and will last throughout the night until the movie has concluded.
6:00PM: THE DRIVE-IN OPENS
The space, located along Fashion Blvd. between Nordstrom and Bloomingdale's, will open for parking, be sure to bring your ticket.
6:00 - 8:30PM: HAVE SOME FUN
Enjoy a bite to eat and shopping inside the mall or enjoy the live music and food (provided by mall eateries) setup at the event.
8:30PM: ENJOY THE SHOW
Make a night of the movies with a stay at the Hyatt Regency Tysons Corner Center attached to the mall, where you can get up to 20% off of your room rate AND breakfast included. Click HERE to learn more.

RESERVE NOW
FOOD DRIVE WITH WGTS 91.9 & THE CAPITAL AREA FOOD BANK
Now through August 9, 2020
Together with WGTS 91.9 and the Capital Area Food Bank, Tysons Corner Center is happy collect food d...
ANNIVERSARY SALE
Now through August 30, 2020 | Nordstrom
Anniversary Sale. New Arrivals from Top Brands. Occurring from 8/19 to 8/30. Shop now!