2018 Help Through Holiday Giving Toy Drive
November 9, 2018 through December 24, 2018
---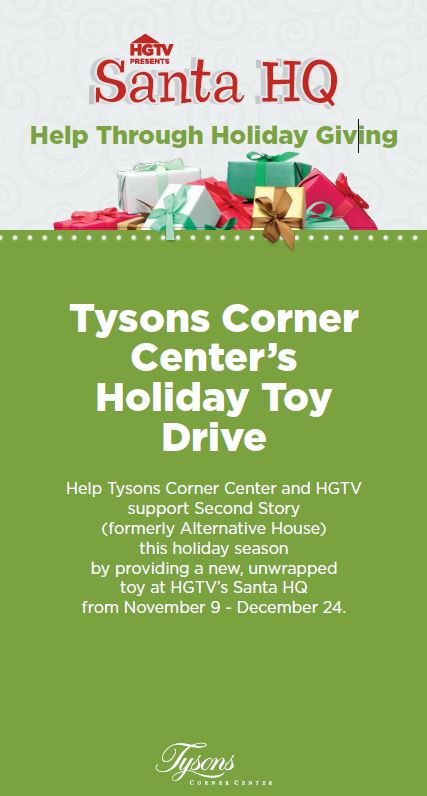 Tysons Corner Center and HGTV are once again collecting toys for a local organization this holiday season. This year's beneficiary is Second Story (formerly Alternative House).
Your donation of new, unwrapped holiday gifts can be brought to Santa HQ at Tysons Corner Center (lower level outside of Nordstrom) from Thursday 11/8 to Monday 12/24 or to Tysons Corner Center's Annual Breakfast with Santa (upper level food court by AMC), from 8am-10am on Sunday, December 2nd.
Those served by Second Story are lucky to have the support of generous community members that ensure that they too, have a magical holiday season.
The vision of Second Story is of a community in which all young people are safe, live in a nurturing environment and have the opportunity to reach their full potential. Founded in 1972 as "Alternative House," Second Story transforms the lives of children and youth, helping them stay safe, make positive decisions, achieve educational success, and overcome personal crises. They offer children, youth and families hope for brighter futures by providing counseling, shelter and neighborhood-based support.
Tysons Corner Celebrates 50th Anniversary with Tysons THEN AND NOW Art Installation
Now through September 29, 2018
In conjunction with Tysons Corner Center, local artist and winner of the International Robot Art Com...
50th Anniversary: Tysons Then and Now Skyline Mural Completed
September 29, 2018 3:00 PM - 4:00 PM
Join Pindar Van Arman, artist of Tysons Then and Now Art Installation here at Tysons Corner Center i...