Photos With Santa + Free Gift
Now through December 24, 2018
|
HGTVs Santa HQ Lower Level by Nordstrom
---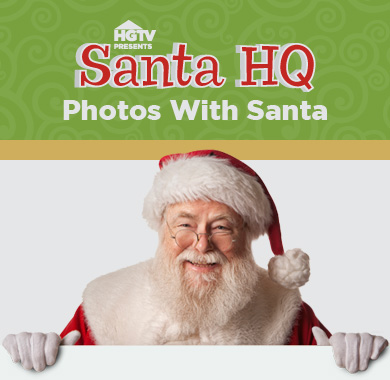 Visit Santa for photos and a free gift!
Santa will be available for photos and visits at his Headquarters presented by HGTV, located in Fashion Court on level 1 near Nordstrom.

Reservations available, but not required!
This year, Santa HQ's new Elf Academy invites guests to come and stand in front of the Magic Mirror to be transformed into Santa's Elf (with a little help from augmented reality), plus create your very own customized Elf-ID card using the new Elf-ID app and a selfie! And don't forget to try Elf-Ray Vision and the Naughty or Nice Meter too.


SANTA HOURS
November 11-December 8:
MON-SAT:10am- 8pm (Break 1: 1-2pm, Break 2: 5-6pm)
SUN: 12-7pm (Break: 3-4pm)
*Thursday,November 15: 10-4pm (No Breaks)
*Thursday,November 22: CLOSED FOR THANKSGIVING
December 10-24:
MON- SUN:9am-8pm (Break 1: 1-2pm, Break 2: 5-6pm)
*Monday,December 24 (CHRISTMAS EVE): 10am-5pm (Break 1-2pm)

* * MAKE YOUR RESERVATION & PURCHASE TODAY * *



ALREADY PURCHASED YOUR PHOTOS?
Purchase additional prints, gifts and more at santa-hq.com




Learn More >
2018 Help Through Holiday Giving Toy Drive
Now through December 24, 2018
Tysons Corner Center and HGTV are once again collecting toys for a local organization this holiday s...
Park.Give.Shop. This Holiday Season
Now through December 31, 2018
This holiday season, valet park your car at Tysons Corner Center from November 22 – December 3...