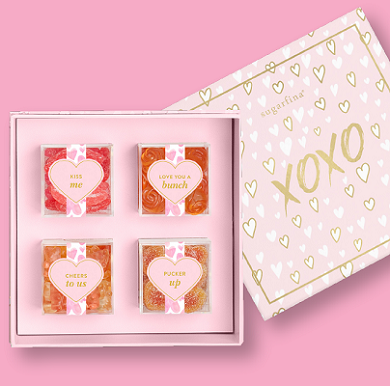 Sugarfina
Sugarfina Valentine's Sweets
Valid from Wednesday February 7, 2018 to Wednesday February 28, 2018
---
Valentine's Day Collection
Valentine's Day is around the corner and we're celebrating with our Valentine's Day Candy Collection! The collection features our Design Your Own XOXO Candy Bento Boxes in a 2 piece bento box, 3 piece bento box, 4 piece bento box and 8 piece bento box. We're also featuring 12 Conversation Heart Candy Cubes with fun messages like:
"Cheers to Us" Champagne Bears
"Kiss Me" Sugar Lips
"You're Berry Sweet" Sweet Strawberries
"Hey Hot Lips" Hot Lips Gummies
"You Give Me Butterflies" Baby Butterflies
"You're A Catch" Swedish Fish
"Love You A Bunch" But First Rosé Roses
"Pucker Up" Peach Bellini®
"True Love" Sweetheart Caramels
"Olive You" Martini Olive Almonds
"You Make Me Melt" Ice Cream Cones
"You're My Sweetheart" Cherry Sweethearts.

For the perfect over-the-top gift, we're featuring our luxurious candy trunks, including our Happy Valentine's Day Candy Trunk, "I Love You" Candy Trunk, and our "Will You Marry Me" Candy Trunk.
And, we've introduced 3 new XOXO Chocolate Bars – White Chocolate Baby Rosé Bears Chocolate Bar, Milk Chocolate Baby Champagne Bears® Chocolate Bar, and Dark Chocolate Baby Champagne Bears® Chocolate Bar.