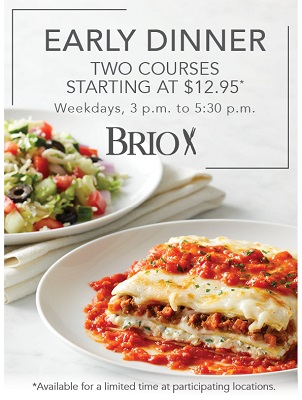 BRIO Tuscan Grille
Two- Course Early Dinner Combo
Valid from Tuesday August 22, 2017 to Friday October 20, 2017
---
For families who enjoy anearly dinner, BRIO Tuscan Grille is offering two-course early dinner combos starting at $12.95! Offer available now through Oct. 20, Monday-Friday from 3-5:30 p.m. Each entrée comes with a choice of soup, salad or dessert. Dine-in only.
$12.95 combo entrée options include the Margarita Flatbread, Mezza Lasagna Bolognese or Pasta Pesto.
$14.95combo entrée options include the Shrimp Mediterranean, Chicken Milanese or
Pasta BRIO.

o Salad Options include BRIO Chopped, Caesar or Wedge.

o Soup Options include Soup of the Day or Lobster Bisque.

o Dessert Options include Caramel Mascarpone, Crème Brulee or Seasonal Dolchino.